A Cross-Browser, Bookmarklet Speed Reader
Yesterday, via both Digg and Reddit, I came upon Spreeder, a wonderful speed reading app. However, it has a major drawback. To use the application, you actually have to perform the speed reading on spreeder.com, taking you away from the page you need. You can either cut-and-paste content into their application, or use their bookmarklet that redirects you to their site after highlighting the text you want to read.
So, I took a few minutes to cobble together this app, which I think is a lot easier to use and far more simple. It is also cross-browser compliant for FireFox, Opera and Safari, no luck in IE as of yet.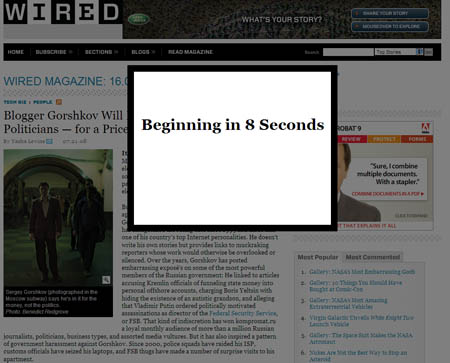 Just simply drag the link below to your browser's bookmark bar. Then, when you want to speed read your favorite blog or magazine article, just highlight the text on the page, and then press the bookmarklet. It will pop the speed reader up right there in front of you, and help you read at a full 300 words per minute!
Click and hold on the link below and drag it up to the bookmark bar If you click and release, the whole thing will be ruined. Just kidding, but it will look weird, because WordPress screws up the bookmarklet so I have to put it in the iframe below. If you want to go straight to the page with the bookmarklet on it, go here.
Hope you like!
No tags for this post.