PageRank vs. MozRank
Please Note: LinkScape and MozRank have been updated since this publishing. The graphs and data below are no longer accurate, albeit still interesting IMHO.With the announcing and opening of the fantastic SEOMoz MozRank API for Linkscape, I thought it would be worth taking a bit of time to compare MozRank to PageRank using existing and fresh PageRank data. Essentially, we wanted to determine if there were any patterns of dispersion between the MozRank and PageRank for random pages across the internet. Using the API, we were able to collect data on 1000 various pages. We selected only pages above PR0 to discourage the likelihood of identifying pages with no MozRank data. We also, as expected, have a skew in the representation of higher PR data, as they are just not as common. *Be sure to read Nick from SEOMoz's Comments Below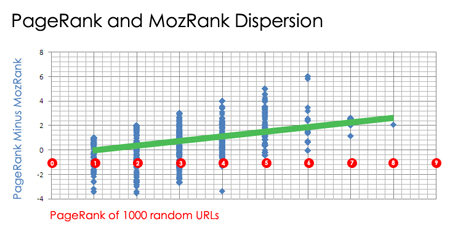 Using exiting PR data, we were able to see a clear pattern in the differences between PR and MR as PageRank increases. As PageRank increases, MozRank is more likely to under-represent the actual PageRank (PageRank minus MozRank = The Blue Dots). Once a page or site reaches a PR5, MozRank almost always under-estimates it's value, which would be represented by a blue dot below the 0 line.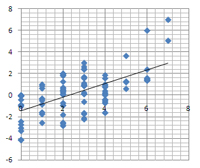 In order to make sure that our tests were not being hindered by aged PageRank data, we ran a similar test with only 100 unique URLs but grabbed the PageRank on-the-fly. As you can see in the representation to the right, a similar pattern emerged. Low PageRank pages were more likely to be over-represented in MozRank data.
The more interesting item to note is that it appears MozRank and PageRank are most similar at the PR3/MR3 range. If you see a PR3, you are likely to see between a MR2 and 4.
I ask you to take this post with a grain of salt, though. I am looking at a very small data-source with very rudimentary statistics. Perhaps someone more talented than I could do a followup. Kudos, once again, to the SEOMoz team for this great resource.

No tags for this post.