Digg: 9 New Stories, 8 Duplicates.
The success of an online community is, in many ways, based on the willingness of its members to abide by some level of accepted rules. In the world of social media, this normally means no duplicate submissions. This, apparently, is not happening over at Digg.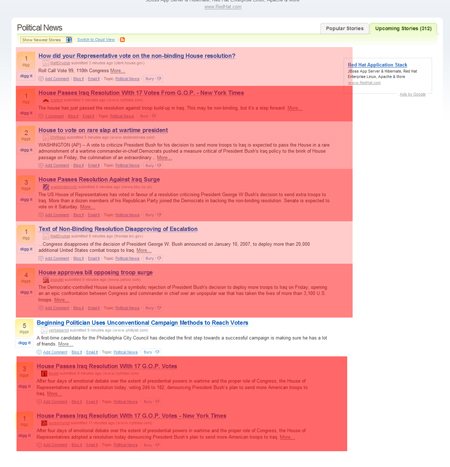 Just a recent snapshot of the top 9 stories in the Political News section, 8 of which are story duplicates. The highlighting points out which of the stories are duplicates and to what extent. (Lighter = less duplicate, darker = more duplicate). To be more precise…
8 of 9 are about the same story.
6 of 9 say the same thing about that story.
3 of 9 are identical to at least 1 of the other stories.
This is definitely improvable: Solving the Duplicate Submission Problem
No tags for this post.