Prevent Harry Potter Spoilers on Digg with Greasemonkey
So, it is inevitable. Some idiots are going to read the last page of the Deathly Hallows and spout out "Harry Potter Lives!" or "Harry Potter Dies" before the rest of us even get home to pick up the book, much less read it like a real person.
In anticipation of these spoilers, I went to look for what I could do to exclude stories by keyword when browsing Digg. (this is also very useful for getting rid of paris hilton and iphone stories, which are growing very tiresome). The solution: Digg Washer. This beauty of a Greasemonkey script makes it very easy to hide stories based on keywords. Unfortunately, it has not been updated since the last Digg revision, so you can either make a slight code change yourself (mentioned in the comments on the userscripts page above), or download a corrected version here (js: user.diggwasher.js)
Here is how it works…
First, install the userscript using the Greasemonkey plug-in.
Second, visit digg.com
Third, click on the "show options"…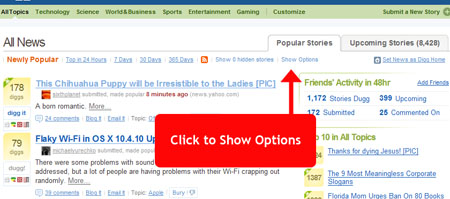 Four, type in a keyword to hide into the search box.
Five, click on the "add topic" link.

Then you will be Spoiler-Safe on Digg!
No tags for this post.