We Can't Fill Your Order or Give You A Refund
It is rare (actually, this is tied into the only 1 other time I have ever issued a warning about a vendor on this site) that I actually take the time to point out an online vendor whose errors are grave enough to warrant boycott. Some of this is the fear of reprisal, but the majority of this comes from working at a web-based company and knowing how common it is for customers to just get confused when really no problem exists at all.
With Registerfly, this is not the case.
My ordeal began over a month and a half ago when I sought to register 10 domains on my own behalf. The registrations were for 2 years each and the order came to about $140. Registerfly had always been slower than the other registrars I normally used, but the price was right, so I was not surprised when a day or two later the domains had not yet propagated.
So I waited.
I became alarmed when several days into the process I could still not change nameservers on the account. This tipped me off to check the whois at which point I realized that the domains had not been registered at all. Below is a screenshot of several of the support requests that have since gone in.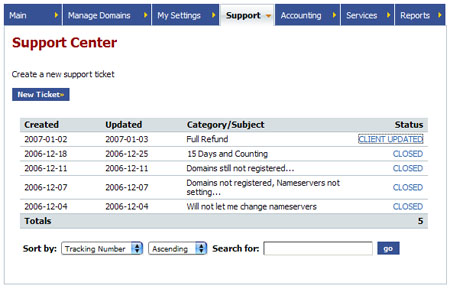 What is not accounted for are the countless phone calls and online-chat-requests I have made with Registerfly. I have never successfully encountered a Registerfly representative via the online chat system. I have let it up, literally, for over an hour before and not received even a "hello, I am _____, how may I help you today". The one time I was able to get on the phone with a Registerfly representative coincided with the third post in the above screenshot.
After much holding, the representative identified that something had "gone wrong" in the registration process, "holding it up" (i love the technical explanations, they always comfort me), so he told me to restart the registration process and placed the money back into my account.
This is where I made the most foolish mistake. Putting money back into my registerfly account is like refunding something at Target and accepting a gift card instead of cash. It makes it incredibly difficult to trace the money back to the original purchase (even if you have the credit card info) so that a true refund can be made if the next transaction(s) fail.
Which is where we are today. Another several weeks later the 10 domains are still not registered. I have issued a Full Refund request at Registerfly that has not yet been responded to. It has been two weeks since that request and I have not even so much as received an initial response. They can't fill my order, and wont give me a refund. It is like buying a coffee at starbucks but, when they run out of coffee, they wont give you your money back.
Why am I not surprised. Please spread the word about Registerfly. I have worked with over 25 registrars and have never encountered anything nearly as abysmal as their service and support.
No tags for this post.