Citation Labs' Broken Link Building Tool First to Integrate nTopic
We are excited today to announce that Garrett French's Broken Link Builder is the first 3rd party application to integrate nTopic, the content relevancy score.
The integration is actually incredibly useful. In making link prospecting scalable, it is important that you be able to filter prospects based on relevancy. This is the case for nearly any out reach effort, but is particularly difficult in the Broken Link Building strategy because the targets no longer exist. In the past, marketers would need to click through to archive.org to try and find a record of the previous site, or use the URL to guess what the content may have been about. Historically, this process has been difficult to automate. You could use proxies for relevancy like keyword in title or URL neither of which would have been very useful, for example, if you were judging this page for relevancy to the term SEO, despite the fact that its nTopic relevancy is over 98%.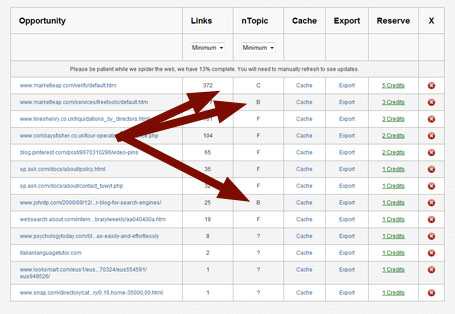 The Broken Link Building tool takes each broken link opportunity, scrapes the Archive.org entry and any anchor text in links pointing to it, and passes those along with the prospecting keywords over to the nTopic API. In the campaign example above, a 404 page was found to the autism-society.org because an SEO blogger had randomly linked to it as part of a charity event. These types of unrelated links show up regularly across the web, but nTopic allows Broken Link Building users to automatically filter them out because their relevancy grades come back quite low (in this case, a grade F). Instead, the user can focus on the MarketLeap 404s, or CivicSEO.com old wordpress seo plugins page, which are more relevant.
This kind of nTopic integraction will continue to spread to search engine optimization services and tools across the web where determining relevancy matters – and in SEO, it matters both on the link building and content creating sides of the coin.
No tags for this post.