Simplest Trick to Optimize Body Content
So, the general rules of thumb for body content are this…
Keywords in important tags (h1, h2, h3, b or strong, em, maybe alt tags)
Unique content as close to the top of the page as possible.
The first issue is quite easy to handle, and has been spammed to death across the internet since the inception of search engines. However, moving unique content to the top of the code while maintaining an attractive, Google-guidelines-compliant page has proven more difficult. Let's take a look.
Headers, advertisements, navigation and more normally precede the really unique content on the page. But how much code and duplicate content does that create?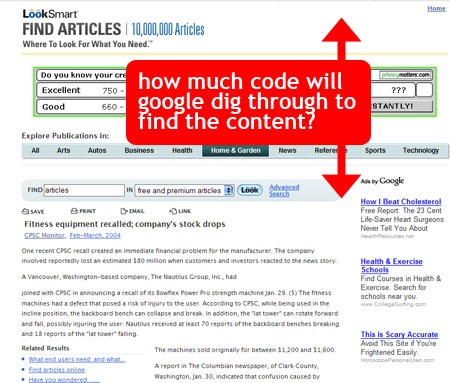 In the case of FindArticles.com, we are looking at nearly 370 lines of code between the body tag and the unique content!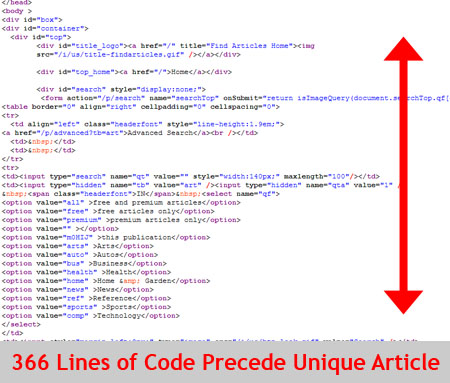 And what does Google say about this? Sure enough, it found the non-unique navigation text before the main, unique content.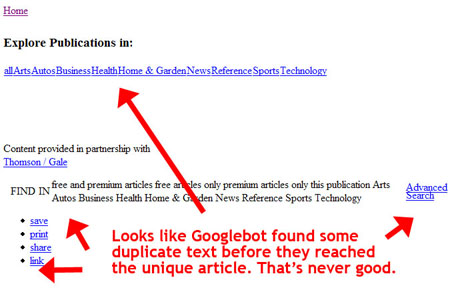 So, how does FindArticles (or any site) move that content up to the top without causing a problem. Well, there have been many solutions, all imperfect, and some quite dangerous. The simple method that avoids using noscript, display:none, visibility:hidden, or absolute positioning is as follows…
Step 1: Put your content in a span tag, with an ID, directly after the body… (use a span so that when the javascript is executed, no spacing will be left)
<body;>
<span id='mainContent'><H1>Your Unique Title</H1>Your Content Here</span>
Step 2: Create a Target Span wherever you want your content to end up… (use a span so that your content will easily wrap around images and aligned tables)
><div id='article'><span id='contentTarget'></span></div>
Step 3: Add simple javascript to the end of your page.
<script>
document.getElementById('contentTarget').innerHTML = document.getElementById('mainContent');
document.getElementById('mainContent').innerHTML=";
</script>
This script will simply copy the content of the Div you have placed below the body tag and put it into the target location. Their is no cloaking and no hidden text. It will cause no wrapping issues, can be used in fixed width or variable width designs. The only limitation is that on very slowly loading pages, it will be possible to see the text for a fraction of a second at the top before it is moved down.
Now, if only I would follow my own advice on theGoogleCache.
No tags for this post.