Google Personalized PPC/CPC Results – Hurts Advertisers
I have been noticing something over the last couple of weeks in regards to rankings of paid search listings in Google and their odd propensity to show up differently in different browsers. Odd you say? Yes I say. Thinking of why this might be, the only logical conclusion I could come up with was cookies. So I decided to test it out. I took a screen shot before I deleted my Google based cookies and then one after. Here are the before and after screen shots. (Obviously this is anecdotal at this point!)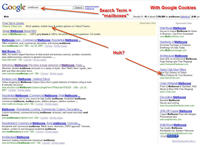 Before Cookies Cleared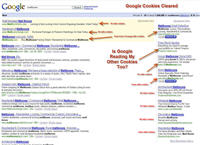 After Cookies Cleared
So Google is personalizing Paid Search results, thanks for the heads up Google.
Good for advertisers? Not really. By doing this Google eliminates some listings all together, or pushes them to never-never land, thereby reducing a chance at a sale. And even "worse" if the ad is pushed to the lower half of the first page by this Google methodology the CTR hits the floor and thereby damages the over all quality score of the keyword, which in turn may drive up the cost of that keyword for that unlucky advertiser. Is this another user-based functionality improvement that just happens to potentially make Google some more money from advertisers or is it a darn good way to turn quality assurance into profitable income?
Tough to say.
No tags for this post.