Google AdPreview Feature Update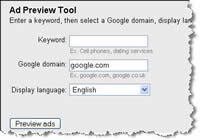 Google has now made the ad preview feature MUCH easier to use. Instead of having to manipulate the URL of the page utilizing a 'cheat sheet' (which Google has now taken down but you can see below for a general idea…) you can now select from a drop down menu of choices to check the location of you ad/natural listing from almost anywhere in the world.
For those of you not familiar with this tool what it does is allow you to check your ad position without incurring impressions. This is great when trying to preserve ad quality as your CTR does not suffer due to anxious repetitive position checks. (I recommend telling your clients to use this feature to check their ads!!) This preservation will help in keeping cost down and positions up.
The Old Way involved hand manipulating URL's using the parameters below: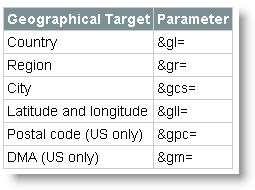 Here is the link to the new interface: https://adwords.google.com/select/AdTargetingPreviewTool
If you aren't using this tool to check your paid search campaigns in Google you should be.
Note that you will be unable to click through the links on the page as it is only a preview and not a fully functioning search result.
No tags for this post.