New PageRank Recovery Tool
Every little while we decide to release some of our internal goodies into the wild, and this is going to be one of those weeks. Hopefully, in advance of the upcoming PubCon South, where I will be speaking on "Advanced SEO Tactics for Hyper-Competitive Verticals", we will be able to release a lot of these tools.
The first tool that I would like to proudly announce is what we internally like to call the PageRank Recover Tool. One of the most common sources of PageRank loss occurs when individuals like to your site using the wrong URL. Unfortunately, this not only causes users to land on a 404 Not Found page on your site, but it also wastes all of that good PageRank on a non-existent page. There are a lot of great tools out there to help you identify these 404 pages, like Google Webmaster Tools and Linkscape, but what they don't do is actually help you fix the problem.
The PageRank Recovery Tool extracts the top 500 pages on your site according to the SEOMoz Linkscape Site Intelligence API to identify all of the URLs which have inbound links but are currently 404 Not Found. The tool then compiles these into a simple form that you can fill out describing where you would like each page to redirect. Then, just press a button and it auto-magically generates code that you can simply copy and paste into your .htaccess file! No programming experience needed!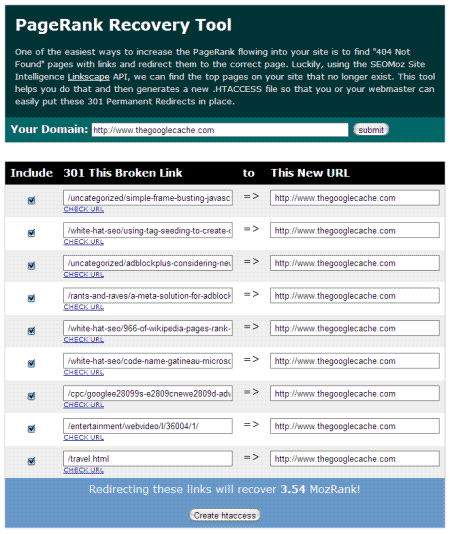 No tags for this post.