PowerSet Will Never Be a Google Killer
Many of you have seen the recent stories about Powerset releasing its public beta. First off, I must say that they have done a great job on an interesting product. However, I think we need to quickly – and I mean very quickly – put to rest this conversation that Powerset could EVER be a Google Killer. ** Please Read the Comment below from Mark at PowerSet for their side of the story **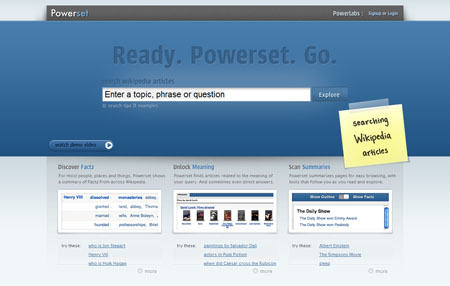 It takes Powerset a month to index and analyze just Wikipedia – 1/8000 of the web. (Mark from Powerset Disputes this Claim Below and, unfortunately, I have no way to verify one way or another. That being said, even a couple of days to handle a site like Wikipedia which has similar formatting across the entire domain is slow in comparison to a giant like Google) Even if their semantic engine were flawless, it would be accurate for year old information at best. Powerset may carve out a niche in the research market, especially research for 9 year olds who are still at the age were citing Wikipedia won't get you an automatic F. However, for the average person, there is an expectation that information on the Web, and available through the search engines, is at least somewhat current. How is Powerset going to explain to the web world that they haven't indexed Twitter yet because they just haven't gotten to it?
Semantic engines may be good for understanding content, but not for understanding that content's importance. This is where the link algorithm matters – something Google realized a decade ago. In most cases, the answer you are looking for is available in quite a few places – Google is just exceptionally good at finding the one that is trustworthy.For example, in the above picture, you can see all of the single n-gram results that have been given to us via the superior Powerset semantic engine. We can learn that Henry the VIII married Wives, for example. And that He Granted Use. Awesome.Bear in mind, this is the example, of all the possible examples, that Powerset chose to feature on their homepage.
Semantic searches are slow. The single greatest asset Google has had, in my opinion, has been the speed of their search results. I know, they have good results, but for many years Google was so fast that even if you didn't find the results you wanted, you could search it again and again and again in half the time it would take another search engine that got it right the first or second time around.
I don't have any problems with Powerset, per se. I think they have invented a neat search engine that will be useful in certain sectors. However, they need to actively squash the "Google Killer" mindset that is circling the internet. What they don't realize is every time someone visits their site because they saw one of these "Google Killer" articles, they are disappointed.
One of the key strategies of marketing is to lower the expectations so that you can spin whatever happens into a victory. Why do you think that Google calls products like Gmail (that you and I would consider as polished as any app we have ever created) "Beta"? It is because they know that if people expect a beta, and see a professional app, they are going to be convinced to stay. Powerset is setting themselves up for a huge loss if they allow this kind of marketing to continue.
No tags for this post.