Detecting "Undetectable" Link Networks
I have been growing more and more concerned lately as clients have been coming to us with propositions from link builders who claim to have an "undetectable" link network. Over time, link network operators have become more and more sophisticated at creating more prolific and difficult-to-detect networks. The process, while straightforward, always seems to be the same.
Acquire Dropped or Pre-Release Domains with Existing PageRank and Strong Link Profiles
Host Domains on Different Class-C IP addresses
Put up unique content with links
Unfortunately, this creates a pattern that is difficult to detect for even moderately trained SEOs who lack the technical skills to analyze the myriad factors that Google has at its disposal. Subsequently, a human looking at several sites on the network would see few if any patterns – the sites look and feel very different, the registration data looks different, they all have different backlink profiles, etc.
This creates a dangerous situation for clients who are now presented with a cheaper alternative that at face value seems to be risk averse. This, however, is rarely the case.
There are tons of factors that Google can look at to determine patterns among backlink profiles that would help uncover a link network…
Registrant Company: Sure you have domain privacy, but all of the domains have the Registrar
IP Owner: Sure you have different Class-C IPs for every site, but they are all still HostGator owned
Platform: Sure you have different designs, but everything is still WordPress
The truth is that mixing either of these with intersecting backlink patterns is enough to nail the overwhelming majority of private, for-hire link networks on the web.
Example Link Network
A client of ours presented me with a solicitation he had received just a few days ago regarding a particular private, for-hire link network. He requested to see a couple of the example sites, which is standard protocol, and he provided me those links to determine whether or not the network actually stood up to the claim that that it was "undetectable by Google". Surely if Virante could detect it, so could Google.
So, I dropped the 7 example network sites provided into a tool I had written that looks for backlink patterns. It first found all the sites those network examples linked to, it then found all of those sites backlinks, then checked all of them to see where they linked, so on and so forth. With only 2 iterations deep plus adding in a WordPress footprint detection, we were able to conclusively identify 118 network sites and 31 users of that private network. The spidering and calculation took our servers about 5 minutes to complete, and only employed 1 of the additional metrics we can use to identify networks.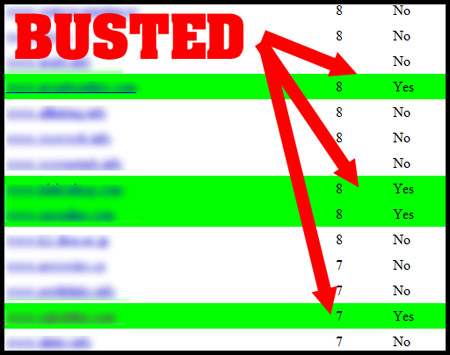 So Why do Private, For Hire Link Networks Tend to Suck?
The primary issue is economics. Let's say you truly wanted to create an incredibly difficult to detect link network, here are all the steps you would need to take…
Acquire domains from numerous sources: SEDO, Godaddy Auctions, etc. (assume each domain on average costs you $70)
Transfer to random registrar with privacy (assume $12/year)
Acquire hosting on unique class-c IP on a different with random hosting companies (assume $5/month = $60/year)
Acquire uniquely written content for site, with random number of pages (assume average is 4 page site, at $5/article = $20)
Acquire unique design for site not using same platform (WP, Drupal, etc.) over and over again (assume $5/ site)
Although this strategy still has a huge footprint of having domains sourced through brokerage websites, the above model would reasonably cost around $170 to set up, and then would continue to cost $70 a year to maintain thereafter. At this price point, nearly all link networks need to sell at least 2 links off their site to make a profit. When this occurs, it becomes susceptible to the simple backlink analysis strategy discussed above. To avoid this, they would need to provide only 1 link per site which, at that point, makes it more cost effective to simply source links via targeted link building rather than to build and maintain your own network.
No tags for this post.