Google Showing Bias Towards .org TLDs
A bit of history:
Of the many uses that Google's webmaster tools offers, I think the most profound use is the ability to get sites easily indexed into Google without the use of links. While Google, like many search engines, has long allowed webmasters to "submit" their sites to be spidered, webmaster tools makes this easier while providing more robust data.
Essentially, in our endless quest to uncover what is behind Google's ranking algorithm we finally have a good way to control "links" in the equation. Links make experimentation difficult. It is nearly impossible to create 2 identically valued links for the purpose of testing. (This is actually possible now, as well; and we will be using a technique to test out the implications later in the year). However, with Google Webmaster Tools, and sitemaps especially, in place, we can control several potential ranking factors at once, allowing us to isolate a single variable in question.
Does Google Intrinsically Rank Certain TLDs above others?
This has long been a question raised among search engine marketers. Should I get the $.99 .info? I hear Google is banning them because so many blackhats use them… Really? I hear .orgs are the way to go, because they look less commercial. etc. etc. etc.
However, until now, there really had not been a reliable study to test these theories out. Virante has finished a preliminary investigation and the results are published below.
Methodology:
There are several ranking factors we need to control.
domain age (purchase new domains at same time)
link profile (use Google sitemaps for indexing)
indexing age (randomize ordering of multiple subdomains in sitemaps submissions)
on-site factors (identical text, content)
So, for the preliminary examination, we purchased 3 domains, identically named, with different top level extensions (.org,.com,.net). We then created 3 separate subdomains on each of these domains so that we could create some sort of result duplication and randomize the order of submissions to Google sitemaps. Finally, we created identical content on each site and identical sitemaps.
Preliminary Results:
The results were quite shocking. The .org subdomains outranked all other extensions. As you can see, the .nets and .coms are intermixed, some not ranking at all, but the .orgs are stacked at the top. While these results must be taken with a grain of salt until they can be verified on a much larger scale, it does indicate that there may be some bias towards the .org top level domain. (many have suspected this) These results have shown true on appx 80% of datacenters we have tested.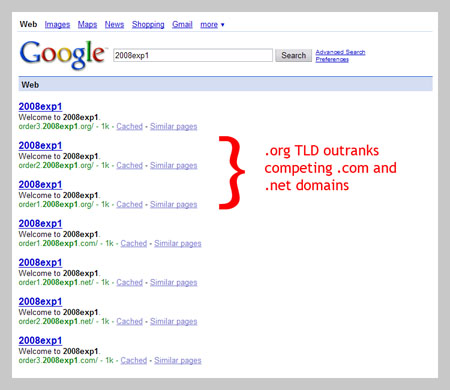 Below is a basic table of the data which also indicates that the indexing date and creation date seem to be unrelated to the ranking as well, dispelling at least some questions as to other factors that may be at play.
| | | | | |
| --- | --- | --- | --- | --- |
| variable | extension | indexed | created | rank |
| o3.org | org | 2008:02:15 | 11-Feb-2008 00:20:47 UTC | 1 |
| o2.org | org | 2008:02:15 | 11-Feb-2008 00:20:47 UTC | 2 |
| o1.org | org | 2008:02:16 | 11-Feb-2008 00:20:47 UTC | 3 |
| o1.com | com | 2008:02:15 | 11 Feb 2008 00:20:39 | 4 |
| o1.net | net | 2008:02:13 | 11 Feb 2008 00:20:53 | 5 |
| o2.net | net | 2008:02:14 | 11 Feb 2008 00:20:53 | 6 |
| o3.com | com | 2008:02:15 | 11 Feb 2008 00:20:39 | 7 |
| o2.com | com | 2008:02:13 | 11 Feb 2008 00:20:39 | na |
| o3.net | net | 2008:02:14 | 11 Feb 2008 00:20:53 | na |
Implications:
Further study is definitely needed. Virante will be expanding the number of test subjects greatly and testing with and without subdomains.
Considering the costs are quite similar, it may make sense to begin using .orgs, like our good friends at SEOMoz
Possible Causes Aside from Overt Bias and Further Caveats:
Google's shifting algorithm is built on profiling characteristics – while a .org bias might exist today, it could easily shift tomorrow if spammers start hoarding .orgs
Google gives bias to .org subdomains, but not .org domains
Google likes to group .org subdomains in the search results, but does not care about grouping .coms or .nets
MattCutts is screwing with me