The End of Paid Links is Near
Author Note: This is speculation and is not currently a tool Google offer's via Webmaster Tools. It is merely the expected next-step in Google's fight against Paid Links. It was my intent to help prepare SEO's for what I believe to be a huge blow to the Paid Links industry
To be honest, I am shocked that Google has not yet implemented such a technique, but after a few conversations, it appears that a Paid-Links killing system is in the works. The solution is simple, elegant, and will silently poison all multi-site paid-link networks (whether or not those networks are open or closed).
The method is quite simple: using Google Webmaster Tools, Google can easily allow webmasters to type in CSS classes or HTML elements within which all links are nofollowed.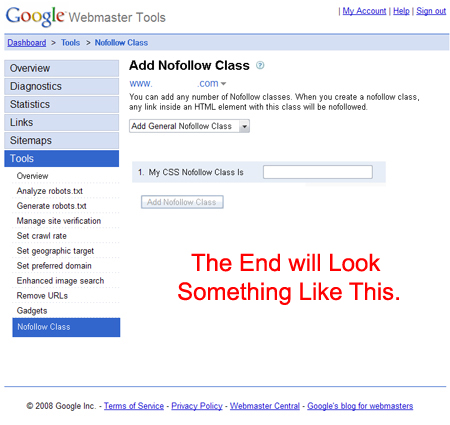 Such as a system could deal a death blow to most paid-linking systems as neither the advertiser nor the advertising network would be able to efficiently determine whether the links being sold are nofollowed. While Google can continue to use its traditional methods of targeting Paid Links, this system would cause an internal rift of trust within major link networks.
Advertisers may have to buy hundreds if not thousands of links to get the same impact and, subsequently, Google could use buyers whose links appear within nofollowed CSS classes to backtrack in finding other non-nofollowed link sellers.
While I have not been able to get true confirmation of such plans (yeah, like Matt would let us know in advance), it seems like this is the inevitable next step in the fight against paid links.
No tags for this post.